After Rain: Phoenix Rise STEAM KEY REGION FREE GLOBAL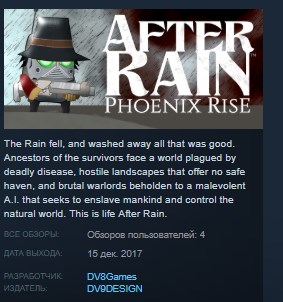 https://store.steampowered.com/app/693560/After_Rain_Phoenix_Rise/
💎💎💎💎💎💎💎💎
STEAM KEY REGION FREE GLOBAL
Before suffering the loss of his father, a young warrior is told of an approaching cataclysm that would again devastate human civilization. Tempered by the elements and burning with vengeful rage, Gideon Cole rises from the Heart of the Badlands to embark on a perilous journey through the unforgiving Wasteland, with the hope of vanquishing a god-like foe. It was time to put a stop to the desert warlord and his minions, take on the terrors that await him in the Valley of Nod, and battle his way through the city of Big Iron, to abolish the Master Program and set humanity free.
After Rain: Phoenix Rise is a 2D action-platformer set in the dark future, where the strong strive to see another day, and the weak are consumed by the Horde. The air is unbreathable, clean water is scarce, and bloodthirsty necrobots feast on the flesh of the living. It is now up to you to bring back all that was good. Lock ´n load, sharpen your blade, and prepare for the ultimate adventure!
FEATURES
Fast-paced Gameplay: Run, gun, and slash your way through over 25 challenging levels, three unique environments, and a legion of baddies
Weapon Upgrades: Pump up your multiblaster with Doubleshot, Scattershot, Grenader, Beamcanon, Plasblast, Soniwave, Zapper, and more
Equipment Enhancements: Take to the sky with the Jumpak, slice through cold steel using the Illuminator, and uncover other hidden treasures to improve your skills
Survive Mode: Prevent the release of the A.I. superweapon in a race against the clock
---
ИНСТРУКЦИЯ ПО АКТИВАЦИИ:
1. Необходимо скачать и установить Steam http://steampowered.com/download/SteamInstall.msi
2. Зайти под своей учетной записью или зарегистрировать новую.
3. Перейти в раздел "добавить игру" и выбрать "Активировать через Steam...", ввести ключ полученный после оплаты.
Цена:
24
руб.
Купить или узнать подробнее
← Назад на главную страницу